Latest News
Read about the latest happenings at Ridgeview Memorial Park
When your business is located in one of the fastest growing areas of the country, you have to be able to grow with it. As part of the Turrentine-Jackson-Morrow family of services, we are constantly evolving to meet the needs of the families we serve. Our goal is to provide beautifully maintained property, peaceful and safe for our visitors. We are pleased to share our latest news, and encourage you to return often to see what's happening.
Pre-Planning Guide Now Available
Turrentine-Jackson-Morrow is pleased to announce the release of our newest publication: Pre-plan Your Funeral: Six Easy Steps to Create Peace of Mind.
This helpful guide was created based on a growing demand for pre-planning services. With pre-planning, families can save time and money, and relieve themselves from having to make difficult decisions during a time of loss.
The guide is available at no cost, and may be downloaded here.
2017 Memorial Day Celebration at Ridgeview Memorial Park
We invite you to join us for our annual Memorial Day commemoration at Ridgeview Memorial Park, where we honor those who have served and given their lives for our country. There will be a special reading of the names, recognizing the 14 young patriots buried at Ridgeview who died while serving our country.
Date: Monday, May 29, 2017
Time: 1:00 PM
Location: Ridgeview Memorial Park, in our veterans' park beneath the flags
Master of Ceremonies: Ray Richardson, US Navy, Commander VFW Post 2150, Vietnam Veteran
Opening Prayer and Reading of the Names: Dave Hoch, US Army,Chaplain VFW Post 2150, Vietnam Veteran
Keynote Address: Ronnie "RD" Foster, USMC, Vietnam Veteran*
Taps: Dale Littrell, Turrentine-Jackson-Morrow
* RD Foster was born and raised in Collin County, graduated from McKinney High School in 1966, and enlisted in the US Marine Corps at age 18. He served for three years, including tours in Okinawa, the Philippine Islands and Vietnam, and was honorably discharged with the rank of Corporal. A well-known singer/songwriter, RD is also an award-winning author of two books about Vietnam. As a community leader, he was instrumental in the creation of the Collin County Veterans Memorial Park in McKinney. In 2010 he was selected "Patriot of the Year" by the Texas Veterans Commission, and was honored by McKinney High School as a "Distinguished Graduate." He is currently writing a book that chronicles the lives of the approximately 385 young patriots from Collin County who have died in the service of our country.
Memorial Day Celebration at Ridgeview Memorial Park
Ridgeview Memorial Park will be the location for our annual Memorial Day Celebration on Monday May 30, 2016, honoring those who have courageously served our country. Events start at 1:00 PM, and all are welcomed to join us.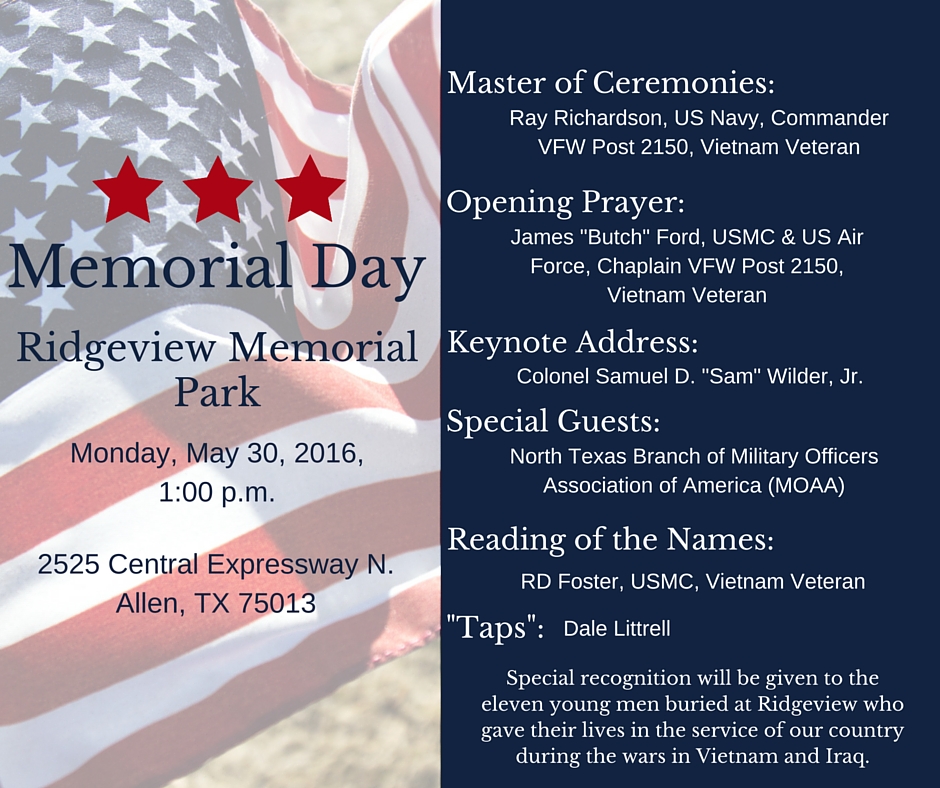 TJM Named Winner in 2015 Readers' Choice Awards
We are pleased to announce that Turrentine-Jackson-Morrow was named "Best Funeral Home" in the 2015 Readers' Choice Awards recently conducted by Star Local Media, a media company representing 14 community newspapers and web sites that has served suburban North Texas for over 100 years. The announcement was made January 28, 2016.
TJM is a multi-year recipient of this award, and we are appreciative of the enduring support we receive throughout North Texas.